Hall 1
Anything can be built in this incredibly large hall. 6,000m2 of surface area with all desired facilities for large-scale events. Hall 1 is used as a conference and trade fair venue, recording studio and also for corporate parties and dinners. With the large loading and unloading doors, skyboxes, production offices and catering rooms, you can realise anything imaginable
Hall 1 is divided over the Black Box and White Box, the production offices Building 407 and Building 46 and the Glass Pavilion. The halls can be used separately or the building can be used as a whole.
Black Box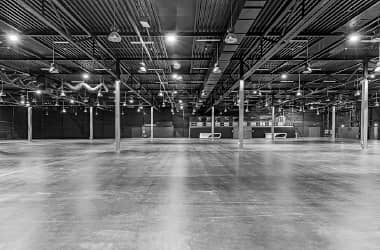 With 4,500m2 of surface area, the Black Box is the largest hall of the area. Multiday trade fairs, large conferences, unforgettable staff parties and spectacular shows take place here. Thanks to its volume, and its adjacent rooms, the Black Box offers a huge variety of options: we can build anything you want. With large loading doors, a climate control system, work and atmospheric lighting, and two skyboxes, this is the event space for the largest and most spectacular events.
White Box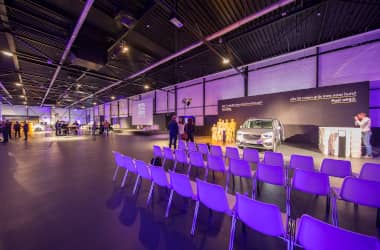 The White Box is a high, light space suited for events with 250 to 2,000 visitors. Consider a plenary session with subsequent food festival or combine the White Box with the surrounding outdoor area for various indoor and open-air activities. In combination with the Black Box, the hall can also be used as a catering or break-out area.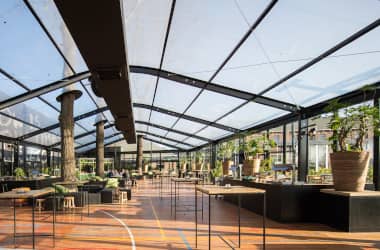 Glass Pavilion
The Glass Pavilion is a special glass structure from 2018. The Pavilion is great for an event such as a dinner under the stars or a lunch in the winter sun. With three large trees growing straight through the roof, it is a wonderful indoor-outdoor venue for a fine dining or a relaxed cocktail.
The Pavilion can also be used as a reception or registration room for any event in the Black Box.
Building 407
Building 407, adjacent to Hall 1, is a long, extensive space with a beautiful glass roof. The wooden floor, white walls and modern art make it a bright and relaxed space. Often used as an artists' foyer or as crew offices for an event in the Black Box, its separate entrance also makes it suitable as a break-out area, catering or event space.
Breakout areas Building 46
Building 46, adjacent to Hall 1, offers three subspaces, ideal production offices, rooms for crew catering or meeting rooms. The rooms are standard furnished in block arrangement. Naturally, any desired arrangement can be made possible.
Black Box

White Box

Surface: 4,320 m2
Dimensions (l x w): 72 x 60
Surface: 1,440 m2
Dimensions (l x w): 72 x 20
Plenary: 3,000 persons
Plenary: 1,000 persons
Dinner: 2,000 persons
Dinner: 800 persons
Festivities: 3,000 persons
Festivities: 2,000 persons
Facilities
6,000 m2
Production office and crew offices in Building 46
Toilets
Power current 3x125A connection + 1x63A connection in the roof
Electricity consumption € 0.35 per KwH
Heating +/- € 1.50 per liter
Work light
Atmospheric lighting
Height to beams 6 meter, to roof 8 meter
Toilets
Downloads
Would you like to download the floor plan (2D and 3D) including all photos of the Black Box?
Please fill in your e-mail address and we will automatically e-mail it to you.