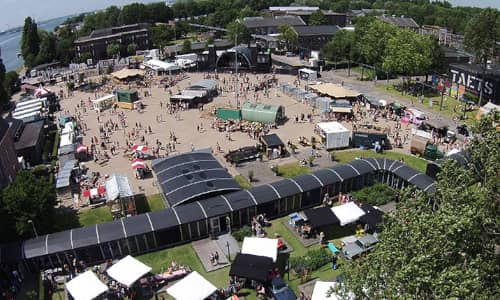 Car from Amsterdam
A10 ring road, direction Zaanstad
Exit Oostzaan, Zaandam-Zuid, Het Twiske
Turn right onto N516/Kolkweg, direction Kolkweg-Noord, Zaandam-Zuid
After 3 kilometers (after the Den Uyl-brug), turn left onto N203 / Provincial road
After 250 meters (at roundabout) turn left
Follow the road and signs to Taets Art and Event Park
Car from the north
A8 direction Amsterdam
Exit Oostzaan, Zaandam-Zuid, Het Twiske
Turn right onto N516/Kolkweg, direction Kolkweg-Noord, Zaandam-Zuid
Then the same as Amsterdam directions
Public Transport
Bus
Taets Art & Event Park is near Zaandam train station. From the station it is 10 minutes with bus 63 and local bus 456.
9292ov.nl
OV-fiets
At the train station you can rent a public transport bicycle, which will take you to the terrain in less than 10 minutes. For the bicycle storage, follow the city centre exit, then take the escalator down and turn left.
From the bicycle storage, cross the provincial road and turn left behind the station.
After approximately 200 m, you cross under the road, after which you turn left. You follow the cycling path to the right and keep going along the provincial road until you reach the water.
Turn left and after about 50 metres you will see the entrance to the Hembrugterrein to your left.
Inside the terrain Taets Art & Event Park is on your right.
By ferry
Hempont
The Hembrugterrein is within walking distance of the Hempont. The ferry crosses 3 times an hour between the Hempontplein and the Hemkade every day.
Zaanferry (Zaanferry.com)
On Thursdays through Sundays, there is a ferry connection between Amsterdam CS and the Hembrugterrein. View the current departure times below.