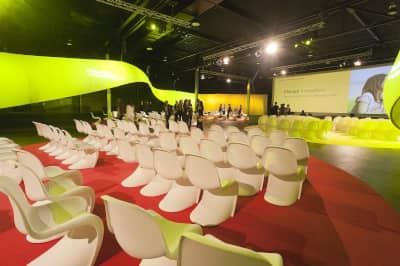 The industrial and creative atmosphere at Taets gives your conference or seminar that little bit of extra and makes it unique. Thanks to its large diversity in rooms, we can organise diverse conferences from 10 to 10,000 people.
The Black Box is a space for large conferences, fairs and seminars. The first part can house about 4000 people in theatre seating and the 'smaller' part, where a stage is already present, is ideal for a plenary seating of about 1000 people. We also offer the Event Area in Building 43, which has room for 500 people.
We also offer space for smaller gatherings, sessions and festivities. Building 41 offers the Gallery, which can accommodate up to 120 people in plenary seating, and the Theatre, which offers room for up to 350 people in plenary seating. Building 41 offers a beautiful view over the North Sea Canal, allowing you to enjoy the ships sailing past.
Since early 2017, multiple meeting rooms have been created in Building 41, making these rooms also flexible for use for meetings and break-out sessions.
Above the Event Area is the Meeting Area, which consists of 8 meeting rooms. These are often used as break-out rooms next to the conference.
| | | |
| --- | --- | --- |
| Capacity conference areas: | Amount of persons | Surface |
| Gallery | 120 pers. | 165 m2 |
| Theatre | 350 pers. | 350 m2 |
| Event Area | 500 pers. | 650 m2 |
| Black Box – Space 1 | 4000 pers. | 4.500 m2 |
| Black Box – Space 2 | 1000 pers. | 1.500 m2 |