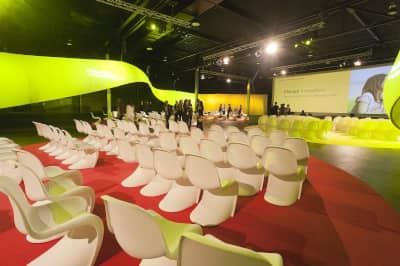 A large national conference, an international symposium or an interactive seminar, any event comes to life in this exceptional environment. Due to the diversity of the buildings and the possibilities of the terrain, it is possible to organise conferences from 10 to 10,000 visitors.
Choose between the spectacularly large conference area of Hall 1, the classic hall with break-out areas of Building 43, the raw industrial Project.Fabriek or the eclectic YadaYada. The buildings can be used individually but it is also possible to combine several buildings for different purposes with use of the garden and the large outdoor area.
With our state-of-the-art facilities, the versatile environment, and the unique character of the venue, we can offer an unforgettable conference experience. Our team is happy to advice you. Please feel free to contact us. You are very welcome for a tour around the premises.