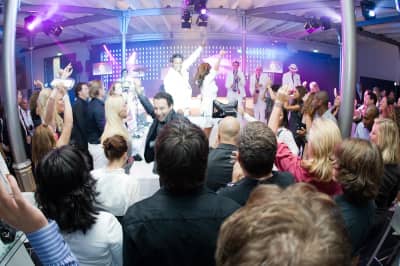 A festival creates space for engagement and innovation like no other event can. Taets offers a unique festival terrain for both indoor and open-air festivals, small and large, corporate and public-oriented, for a high-impact event that inspires, connects and challenges.
Whether you want to organise a festival or to bring festival elements to your corporate event; we are happy to advice and assist you. Imagine an interactive format, a pick'n mix structure, and a playful and informal atmosphere for your next business event, or consider a food truck festival with live music or a market place for workshops, lectures, games and other experiences. Due to the versatile nature of the terrain and the unique buildings, our festival venue is unrivalled.
For an indoor festival, YadaYada offers a Plug&Play environment with foodtruck court and marketplace. For a public festival or a large corporate festival, we recommend using the entire terrain. Each festival is unique and our creative team will be happy to advice you. Together we can realise anything.