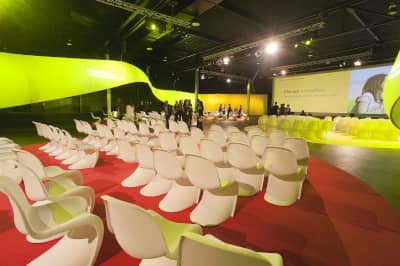 The optimal product presentation requires creativity, surprise and the perfect setting. Taets offers various settings with unmatched storytelling possibilities for any launch or product presentation.
Whether grand and compelling or small and exclusive, each event deserves a magical setting. The possibilities range from a spectacular presentation in Hall 1 to an intimate exclusive launch on a ship. Leave an unforgettable impression with the industrial rawness of the Project.Fabriek, or surprise your guests with the vibrant YadaYada, or combine the Gallery with the authentic Theatre for a classic and chic atmosphere.
Our creative team will advice and assist you with the optimal storytelling possibilities, culinary arrangements, and the perfect setting.
Please, contact us about the possibilities, or visit us for a tour around the premises.