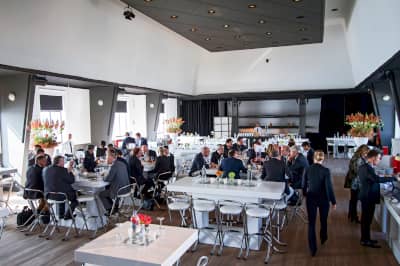 Dining in Taets is always an unforgettable experience. Consider a chic sit-down dinner under the stars in the Glass Pavilion, a vibrant food truck festival in YadaYada, an informal barbecue in the Event Garden, an intimate dinner on the water or a sit-down dinner with entertainment in Hall 1.
Our team is here to advice you about the most optimal setting for your dinner. Whether it is on the waterfront, on the water or in one of the buildings or pavilions on the Hembrugterrein; anything is possible. Each dinner is unique and always uniquely designed for your event. Let your imagination run free. Nothing is unthinkable for an unforgettable dinner.
Our catering team is here to advice, organise and realise everything you imagine. We also offer the possibility to work with an external caterer of your preference. Please feel free to contact us about the conditions, possibilities and all your inquiries.