If you are looking for an intimate or rather a large conference location in Amsterdam and the surrounding area, then Taets can offer the solution. Thanks to the industrial character offered by our conference location, your guests will be inspired and ideas will be gained.
The conference location is often an important factor in organising a conference. You usually spend a lot of time finding an appropriate conference location. There is always a lot involved in your search for a conference location. Does the location have enough capacity? Is the conference location accessible for my guests? And what about the parking possibilities?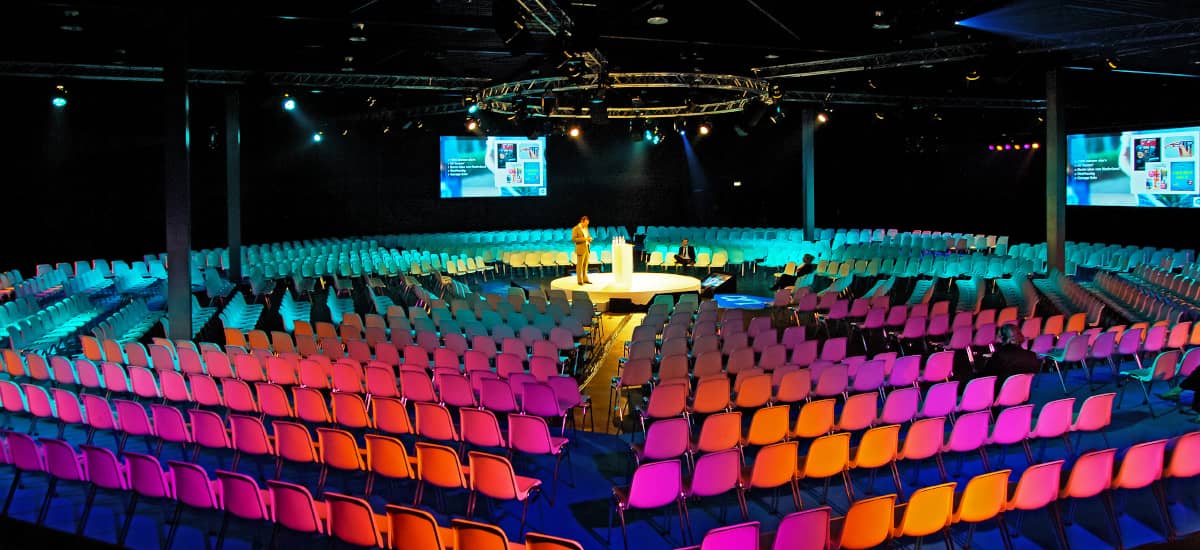 Taets offers many possibilities as conference location. Taets has over 13 conference locations which you can discover. The Meeting Area, consisting of 8 rooms, is a conference space where you can hold an intimate or general meeting with 10 to 80 persons. We also offer an authentic Theatre as conference location. In this space, you have a beautiful view of the North Sea Canal of Amsterdam. Here, you can hold a conference for up to 350 persons. The modern Event Area can also offer a solution if you want to organise a conference for a larger company. This conference location has a capacity for up to 500 persons. If you are looking for a conference location for a very large company, we suggest the big hall, called the Black Box. This space offers room for 3700 persons.
Taets is very accessible both from the south and the north of the Netherlands. At 15 minutes from Amsterdam Central Station and 20 minutes from Amsterdam Schiphol Airport, our conference location is easily accessible for your (international) guests.
Parking at a conference location in Amsterdam is often costly and insufficiently available. Taets is equipped with a very large free parking lot for about 1000 cars, making these problems obsolete for the guests visiting your conference.
Taets is convinced that our conference location meets most demands without costing you a lot of time. Taets is very flexible and is happy to think along with the organisation of your conference. We listen carefully to your demands and will assess completely non-bindingly what Taets can mean for you as conference location.
Catering at your conference location
You can also let us take care of the catering at your conference location. Our renewed catering label, named Taets Kitchen, is happy to make you a proposal based on your wishes and budget. We can also provide you with other facilities, such as the decoration and cleaning of your conference location. Should you prefer bringing in your own suppliers at our conference location, that is no problem at all. Taets is very flexible. The choice is yours!
And, not unimportant, it can save the organisation of your conference a lot of time and money. Taets has a transparent working method, giving you insight into all the costs and activities surrounding your conference. You can contact us by means of the telephone, e-mail or the contact form on the website. We are happy to think along with you to realise your congress at Taets.