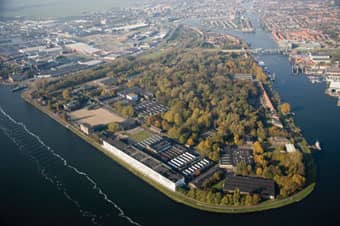 The buildings of Taets are part of the industrial heritage on the Hembrug terrain, a monumental industrial terrain dating from 1897.
The Hembrug, former defence terrain, is located in a unique industrial landscape that keeps developing itself with regards to the catering industry, events and the creative industry. It has grown into a creative hotbed, to which craftsmanship and sustainability are central.
On the Hembrug terrain, you can eat and drink, shop, visit a museum or take a look at the craftsmen studios. In short, a unique place where there is always something to do.
For more information, visit www.hembrugterrein.com